PEANUT BUTTER AND BACON DOG BISCUIT RECIPE
Adapted from  http://www.dogtreatkitchen.com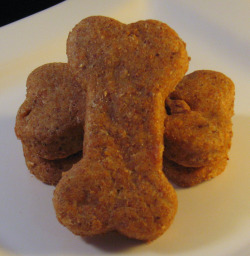 Ingredients:
2 pieces bacon, thick cut, cooked
and crumbled (see tip)
1/8 cup bacon grease
2 cups whole wheat flour
1/4 cup ground flax
1/4 cup wheat bran
2 tsp baking powder
1/2 cup natural peanut butter
1 egg, lightly beaten
3/4 cup water
Instructions:
Preheat oven to 325° F
Cook bacon until crispy. Drain on a paper towel.
Pour the bacon grease into a glass measuring cup.
In a large bowl, whisk together the flour, ground flax, wheat bran, and baking powder.
Crumble the bacon, once cooled, and stir into the flour mixture.
In a microwave safe bowl, warm the peanut butter. Approximately 30 seconds.
In a medium bowl, lightly beat the egg. Then pour in the peanut butter, water, and bacon grease. Use a fork to whisk together the wet ingredients until completely combined.
Make a well in the dry ingredients, and pour in the peanut butter mixture.
Stir until combined.
Knead lightly in the bowl with your hands.
Lay down one large sheet of parchment paper, roll your dough onto it, then lay another piece of parchment on top. You'll essentially have a dog treat dough sandwich. See the video for tips.
Roll out to 1/2 inch thickness.
Lightly spray a baking sheet with non-stick cooking spray.
Cut shapes out of the dough and place on your prepared baking sheet. Gather the extra dough, knead into a ball, and repeat the process of rolling and cutting until there is no more dough.
Bake for 15 minutes.
Turn off the oven and leave them there to cool for 2 hours or overnight.
Storing – These homemade dog biscuits will stay fresh in the refrigerator for up to two weeks. They will keep in the freezer for up to 6 months.
Yield – Using a 3 inch bone shaped cookie cutter, you will get 18 homemade dog biscuits.